This tutorial will help you learn how to paint wooden letters in no time. While painting may look intimidating, it really isn't that difficult if you take your time. This tutorial is for finishing baltic birch wooden letters. MDF wooden letters is very similar, except the edges need to be sealed using Mod Podge or a good primer (I personally find Mod Podge works better).
Supplies Needed
Letter(s)
Paint – Craft paint or latex paint
Sandpaper – various grits such as 120, 180 and 220 grit
Paper or cardboard to protect your work area
Paper towels
Water (to wash the brushes and dampen the paper towel)
Brush – I used a foam brush. Any brush will work.
Plastic lid
1 – Put the cardboard or paper down to protect your work area. Lay out your supplies.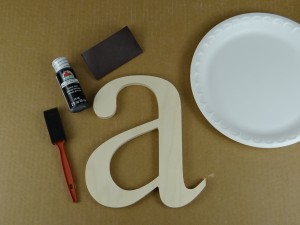 2 – Sand the letters on the edges and faces. Using the paper towel, get it slightly damp (is really doesn't take much) and wipe the dust off the letters. Allow the letters to dry before proceeding to painting.
3 – Dispense some paint (or if the container is big enough for the brush, just have it open). It is easier to have less paint as you can always put some more on the plate.
4 – I find it easier to paint the edges first. Smooth out any build up of paint that may occur on the faces. This help with sanding later on.
5 – Lay the letter down and paint the face, smoothing out build up on the edges as you paint an area.
6 – After the paint has dried, paint the back face. This may be option if you are putting the letters on a plaque for a sign.
7 – Sand the edges and faces. I used 120 grit sandpaper in this step.
At this point, if you like the distressed look, you can stop here. You can also optionally add a coat of gloss Mod Podge for a shiny finished look.
8 – Apply another coat on the edges and faces and lightly sand with 220 grit sandpaper.
After the paint has dried, you can now hang the letters or apply to a sign. We will soon have a tutorial on hanging letters.
Don't have time or patience to paint letters? We also offer painted letters.